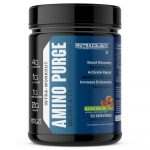 Nutracology Amino Purge BCAA For Muscle Recovery, Endurance 300gm
Sale!
Nutracology Amino Purge BCAA For Muscle Recovery, Endurance 300gm
Incl. Tax
-50%
Increased Muscle Growth &  Endurance
Only logged in customers who have purchased this product may leave a review.
Amino Purge is a carefully dosed muscle and performance-enhancing mix that provides your body with the BCAAs it needs to improve strength and recovery. Delivers the most effective BCAA mix on the market, ensuring that nothing slows you down while you put in the effort. BCAA offers a unique ratio – Leucine, Isoleucine, Valine – that is specifically tuned to deliver the ideal amounts of these three amino acids during all phases of muscle development and maintenance. Through this formulation, amino acids are released both before and after a workout. BCAA minimizes muscle damage, while supporting increased lean body mass. BCAA is engineered to help you power through workouts, recover faster than ever, without sacrificing taste or results. Created with a balanced 4:1:1 BCAA ratio
SUPPORTS LEAN MUSCLE MASS: BCAA post-workout powder promotes muscle development and maintenance while supporting lean muscle mass and reducing muscle breakdown.

CONVENIENT POWDER FORM: This BCAA powder mixes easily with water and contains zero calories, zero carbohydrates, and zero grams of sugar. It's sold in a delicious watermelon flavour

ACCELERATES RECOVERY: The BCAAs are formulated for optimal absorption and utilization. This helps them penetrate your muscles for quicker recovery from workouts. It helps repair and rebuild muscle to aid in post-workout recovery.

LEAN MUSCLE BUILDING: BCAA contains leucine, isoleucine, and valine, which work synergistically to reduce muscle breakdown and support lean muscle growth. BCAAs not only support muscle growth, they also help you maintain the muscle you already have

MUSCLE GAINS: 4:1:1 BCAA's to increase Muscle Protein Synthesis, reduce Muscle Breakdown and promote Muscle Recovery & Repair. Our potent BCAA powder boosts endurance levels for improved overall athletic performance

GREAT TASTE, SUGAR FREE: A great tasting, sugar free product that has the perfect blend of branch and essential amino acids
How to use: Depending on level of activity, mix 1 scoop with 8-10 oz. of water for moderate activity or 2 scoops with 16 to 20 ounces of water for intense activity
Benefits:
Increase Muscle Growth.

Decrease Muscle Soreness 

Reduce Exercise Fatigue.

Prevent Muscle Wasting.

BCAAs Delay Fatigue During Prolonged Exercise

BCAAs Improve Aerobic and Anaerobic Performance When Taken Regularly

BCAAs Fortify the Immune System

BCAAs Protect Lean Muscle

BCAAs Reduce Exercise Induced Muscle Soreness and Damage
WARNING: THIS PRODUCT IS ONLY INTENDED FOR USE BY HEALTHY ADULTS OVER 18 YEARS OF AGE. Consult your physician before using this product if you are taking any prescription or over the counter medication or supplements. Do not use this product if you are pregnant or Breastfeeding. Do not use this product if you at risk or are being treated for any medical condition or if you are taking MAO inhibitor or over the counter medications. Do not exceed the recommended Use. Discontinue use 2 weeks prior to surgery. Discontinue use if you face any adverse reactions and consult your physician.
ALLERGEN STATEMENT: This product is Manufactured in a facility that handles milk products, gluten, shellfish, soy, peanuts and other tree nuts
STORE IN A COOL AND DRY PLACE. KEEP OUT OF REACH OF CHILDREN. DO NOT USE IF SAFETY SEAL IS BROKEN OR MISSING. CONTENTS SOLD BY WEIGHT NOT VOLUME, SOME SETTLING MAY OCCUR
This statement has not been evaluated by the Food and Drug Administration. This product is not intended to diagnose, treat, cure, or prevent any disease